Naples and its Million Dollar Homes
Posted:
Naples is being recognized as eight-out-of-10 of the wealthiest housing markets in the country, according to CNN Money.
It's no secret that Naples is home to beautiful million dollar homes. We Naples residents have known that for quite some time. Now, the rest of the country is beginning to take notice.
Number one on the list of million dollar homes was Beverly Hills. No surprise there.   The town even got TWO hit shows named after its famous 90210 zip code. According to Trulia, the median home price is $2 million. Over a period of 12 months, there were 18 sales of $10 million or more, the most out of any zip code in the United States.
New York's prestigious 10013 zip code came in second. Aspen, Colorado's 91611 came in at third place. Miami Beach's 33139 came in fourth. Montecito, California came in at fifth place. The zip code it represented was 93108. Malibu, California was not far behind coming in at sixth place for its 90265 zip code. Newport Coast, California was featured in shows like Laguna Beach and the OC so it's no surprise that it came in at seventh place representing the 92567 zip code.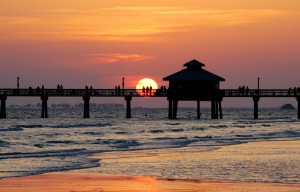 Naples, Florida came in at eighth place representing the 34102 zip code.
Palm Beach, Florida and Greenwich, Connecticut rounded out the list at number nine and 10 representing zip codes 33480 and 06380, respectively.
About Naples, the Prime Real Estate Location in southwest Florida and its Million Dollar Homes
The article from CNN Money describes Naples as being known for its pristine beaches, art galleries and wildlife sanctuaries.
And as someone who has lived in Naples for the past 16 years, I can tell you that all of that is true. You can access tons of breathtaking beaches off of Gulfshore Boulevard, which is located near downtown Naples and Old Naples. The Naples Pier, originally built in 1888, is located off of 12th Ave. S. and it is one of Naples's most popular attractions.
The Collier Seminole State Park is located off of the East Trail (U.S. 41) going south toward Miami. It's about a 45 minute drive from downtown Naples. The State Park features hiking and biking trails, camp sites, fishing, canoeing and kayaking, campfire circles, a boat ramp and wildlife sightings.
The Corkscrew Swamp Sanctuary is a little further, about an hour away from downtown Naples. The 13,000 acre preserve features an exquisite boardwalk complete with historic bald cypress trees and the chance to see Florida wildlife up close and personal.
According to the Naples Chamber of Commerce, over 500 artists and entertainers call Naples their home and over 75 artist studios and galleries are sprinkled around the gulf-side town.
"I don't think people fully realize how the arts and cultural community contributes to the quality of life in Collier County," said Elaine Hamilton, Executive Director, United Arts Council of Collier County. "Whether it's art, music or some form of entertainment, people are involved. It goes beyond the arts to include what I call the business side of it. The arts in this area contribute $350 million annually to the local economy. Add the for-profit arts and cultural aspects, and that number is over $500 million. Of course our nice weather, tourism and the beaches attract people to this area, but more and more, it's also the arts."
Naples, Florida Real Estate Run Down
For the week ending on Dec. 25, the average listing price was $749, 145 and the median sales price was $237, 375 from September to December last year, according to Trulia. The most popular neighborhood in Naples is Old Naples with an average listing price of $1,615,571.