Naples Beach & Golf Club
Posted: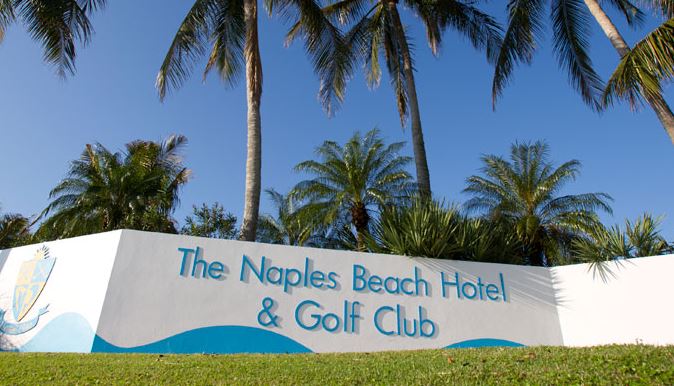 Naples Beach & Golf Club – Coquina Sands
If you're looking for a little more rest and relaxation you might check out North Olde Naples along the waterfront at the Naples Beach & Golf Club. Experience everything that Florida's southwest coast has to offer with gorgeous beaches, exceptional golf, world-class resort amenities, and over 7 miles of white Sandy beaches.
The Naples Beach Hotel and Golf Club has been serving the area for generations and their fully equipped staff has been offering top-notch services since 1946. Whether you're here for the day, scheduling a beach wedding or event, or just relaxing for the weekend, the Naples Beach Hotel and Golf Club is an ideal place to call home.
Amenities:
Spa and Salon
Fitness Center
Golf Course
Tennis Courts
Beach
Sunset Beach Bar and Grill
HB's on the Gulf
the Seminole Store
Lobby Bar
Kids Club
Orchid House
Pool and Spa
Here's what guests have to say about the Naples Beach & Golf Club: "It is in a fabulous location. 10 min drive to Tin City and Waterfront area. We had breakfast served daily at the Golf Clubhouse which was a treat. Hubby played golf twice and enjoyed it. Hotel is made up of 5 separate buildings and has two pools, one is adults only and there is a nice pool bar between the two pools serving really lovely cocktails. We stayed in the Patio building. Only two stories high, we stayed on second floor overlooking beach with a lovely large balcony and only steps away from the stunning beach. Watching the sunset from the cocktail bar in the evening is a highlight that many locals also enjoy."
Homes for sale around the Naples Beach & Golf Club average at about $450,000 to 1.5 million. I know that's quite a range but properties very as well from simple one bedroom condominiums to luxury million dollar waterfront estates. There are several single-family homes but the majority of properties in this area are condominiums with exquisite ocean views.
Call me today if you're interested in homes for sale around the Naples Beach & Golf Club; your home away from home awaits you.
Your Olde Naples Realtor®
When it comes to buying or selling a home you need an agent that not only knows real estate but the area as well. At the Domain Group we strive to give 100% attention to our clients when buying, selling, renting or investing in Olde Naples real estate. We offer personal tours and all the listings from the most popular neighborhoods in Olde Naples such as 3rd and 5th Street, northeast Olde Naples, Bayfront and the Olde Naples Beach and Golf Club as well as local news and information. For real estate you can trust, call us anytime. We would love to help you find the right home in Olde Naples Florida. 239-898-5329